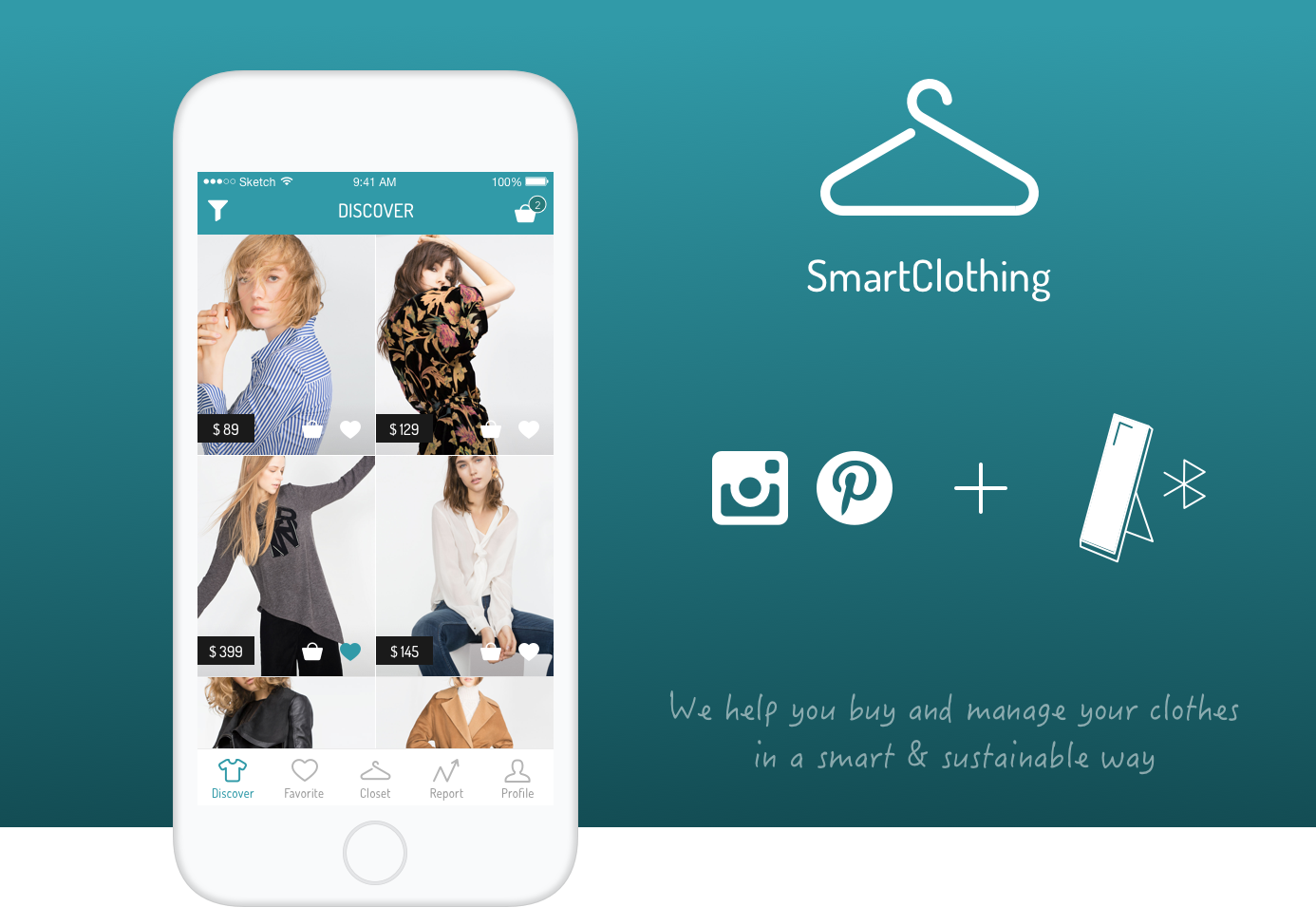 Other Team Members: Kai-ting Huang; Sijin Chen; Rushabh Mehta
Deliverables: Paper prototype; Interactive prototype
Tool: Sketch; Illustrator
Problem
In US, more than 105,000,000 tons of clothing / textile waste are generated each year and go into landfills. According to EPA estimates, the average American throws away approximately 81 pounds of clothing each year. Some clothing such as synthetic clothing could take about hundreds of years to decompose. Although nearly 100% of clothing can be recycled or reused, only a few of them were recycled or collected by charities. The clothing waste also results in the waste of money spend on those clothing. 
One of the reason causing this problem is that many people buy clothing they rarely or never wear. In addition, even if most of the people are reasonable buyers, research shows that only a few of them consider recycling as one of the option. Most people just throw away their old clothing. 
To understand the problem and figure out a way to reduce the clothing waste and help maintain the sustainability of the world, we decided to conduct a research on people's clothing purchase and wear behaviors.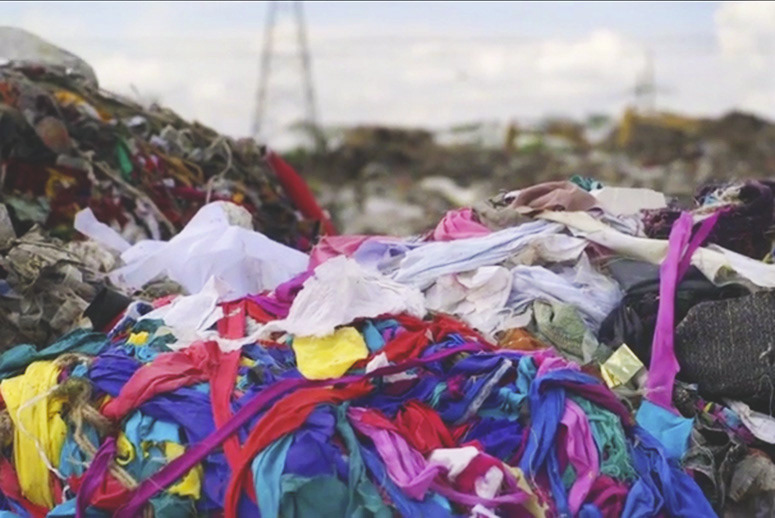 Contextual Inquiry
To understand the problems and situations, we start with 5 contextual inquires at participants' home. We asked our participants to show us their wardrobe, and categorize their clothing based on the usage. 
We found that all of those participants have unwanted clothing in their wardrobe. Those unwanted clothing includes clothing purchased under discounts, clothing purchased for fantasy, or clothing purchased for fun. Participants rarely realized that before we brought it up with them. Most of the time, those unwanted clothes will probably lay quietly at the bottom of the wardrobe. Participants mentioned that they would usually throw them away when they move. 
Target Users
Based on the result from contextual inquires, we come up with our target users:
- People who want their investment on clothing worth every penny.
- People who want to buy clothes that they would wear frequently, or match with their existing clothes. 
- People who want to help reduce clothing waste and maintain the sustainability of the world. 
User Interview

To better understand users, we recruited 6 participants, 3 students and 3 working professionals.
The user interviews show that:
- 2 participants mentioned that they will actively seek for sustainable clothing. Although rest of the participants didn't actively search for sustainable products, they do understand the importance of sustainability and wish to be able to purchase more sustainable products.
- It requires too much effort to do clothes recycling (e.g. don't know where to recycle or live too far away from second hand stores), so most of our participants either leave their unwanted clothes behind in the closet for a long time, or simply throw them away.
- All participants have a rough idea about how often they wear a certain clothes, but not sure about all of them. 3 participants tend to buy more clothing than they actually need. They want to reduce their chance of doing unreasonable shopping so that they can save more money (because not all of clothing can be returned).
Usability Test
We tested our initial ideas by conducting 5 usability tests on paper prototype.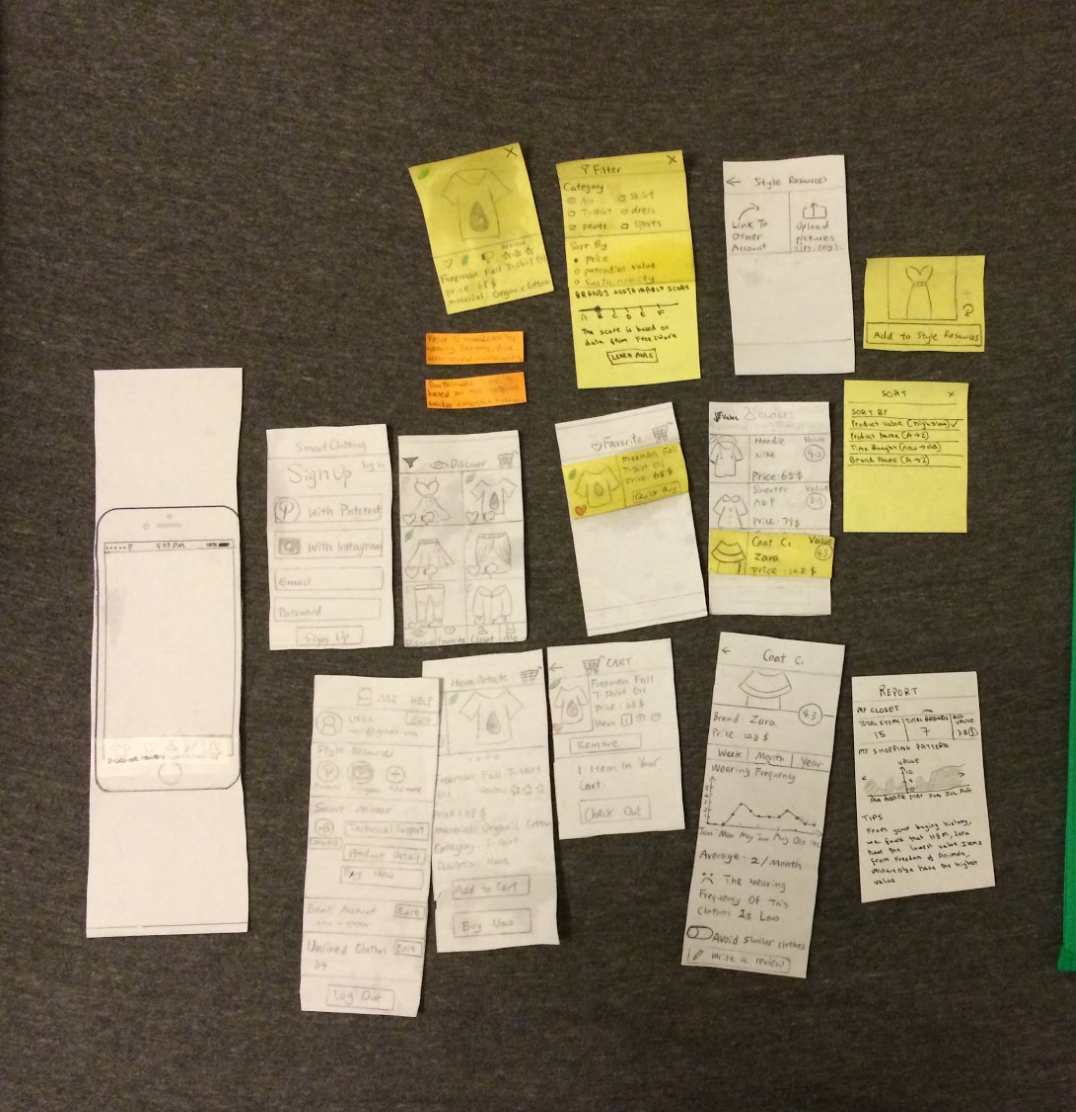 To verify the workflow, we created two storyboards and tested our storyboards with the same participants.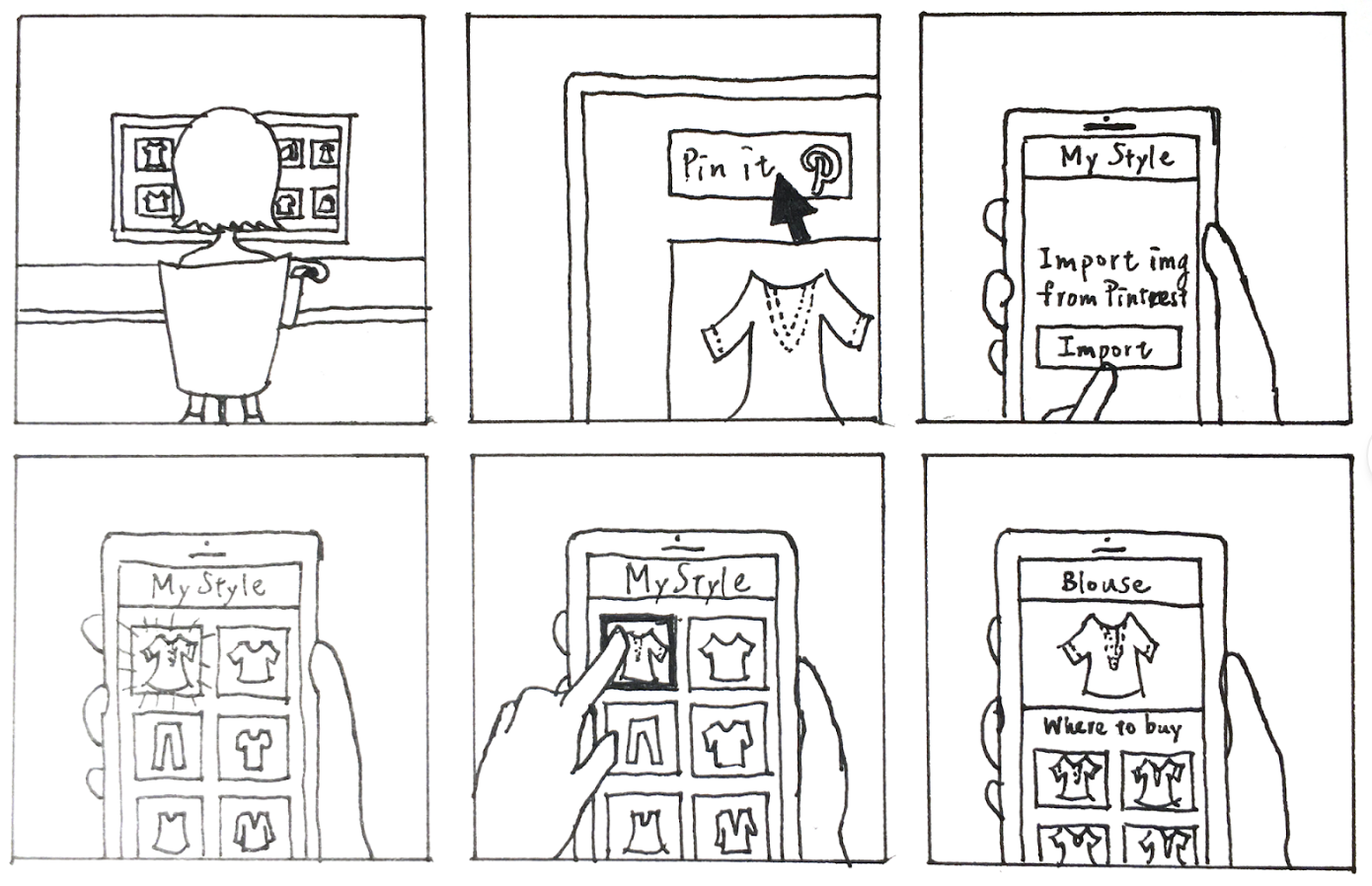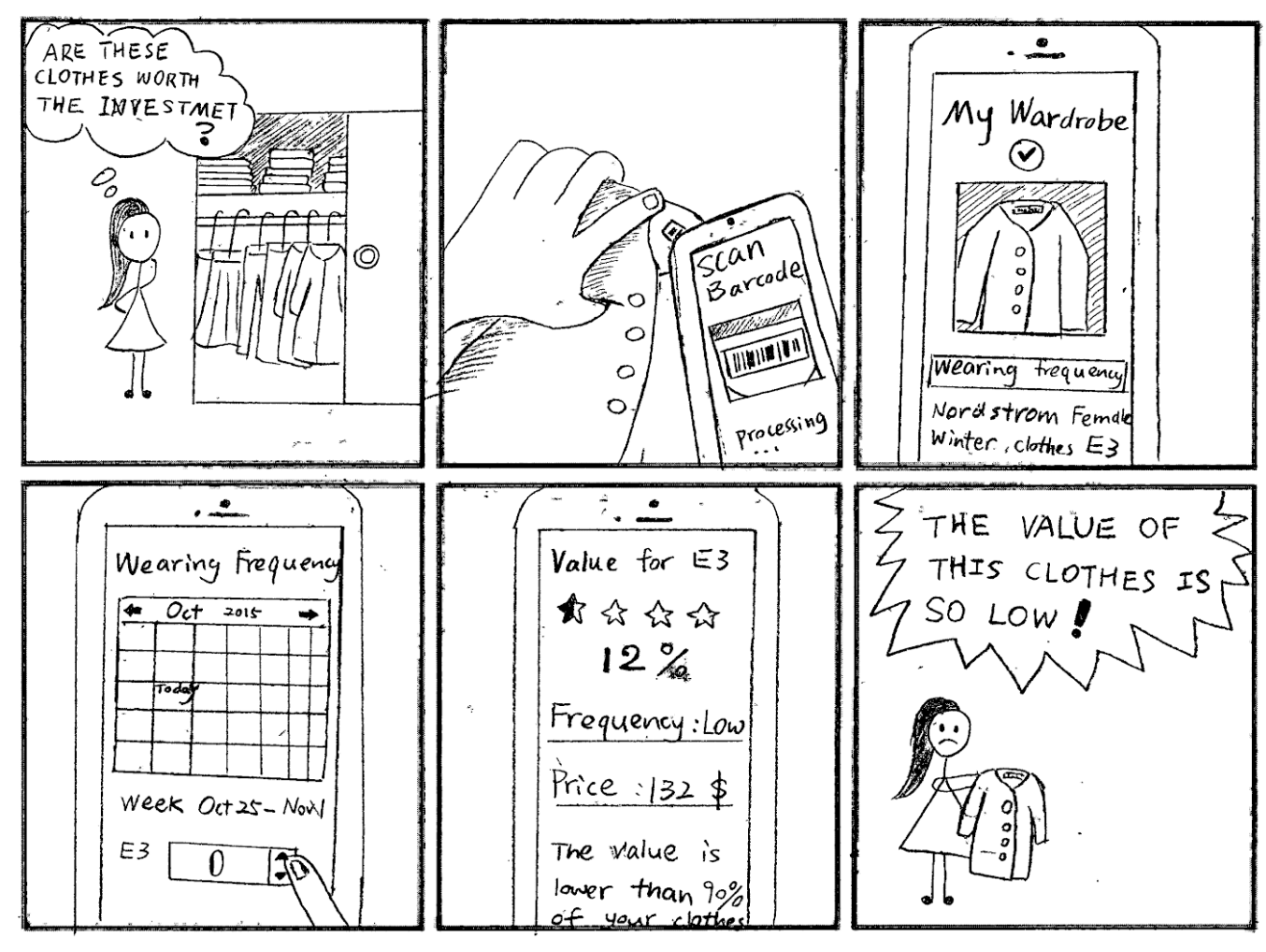 We got some valuable feedback:
1. Participants want to be able to control the working time of "smart mirror" so that it will not violate their privacy.
2. Besides knowing which clothing is "low-valued", participants also want to know if there is any way to deal with those "low-valued" clothing, such as recycling or reselling.
3. All participants find it's easy to navigate in the app. However, it would be nice if we can provide user assistance to first time users and explain what the "sustainable score" means.
Workflow of Wireframe
Based on the results from usability tests, we created the workflow of wireframes.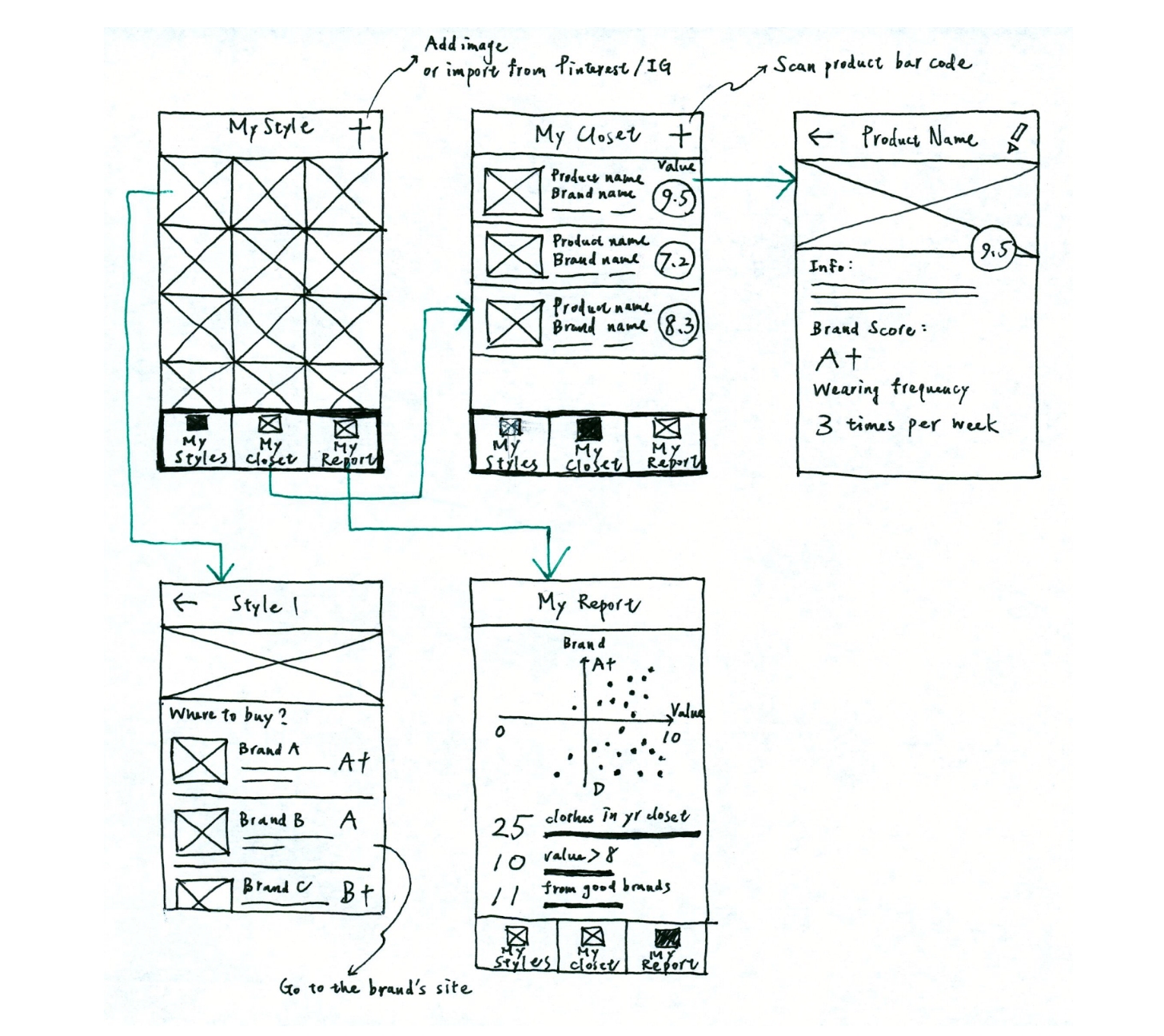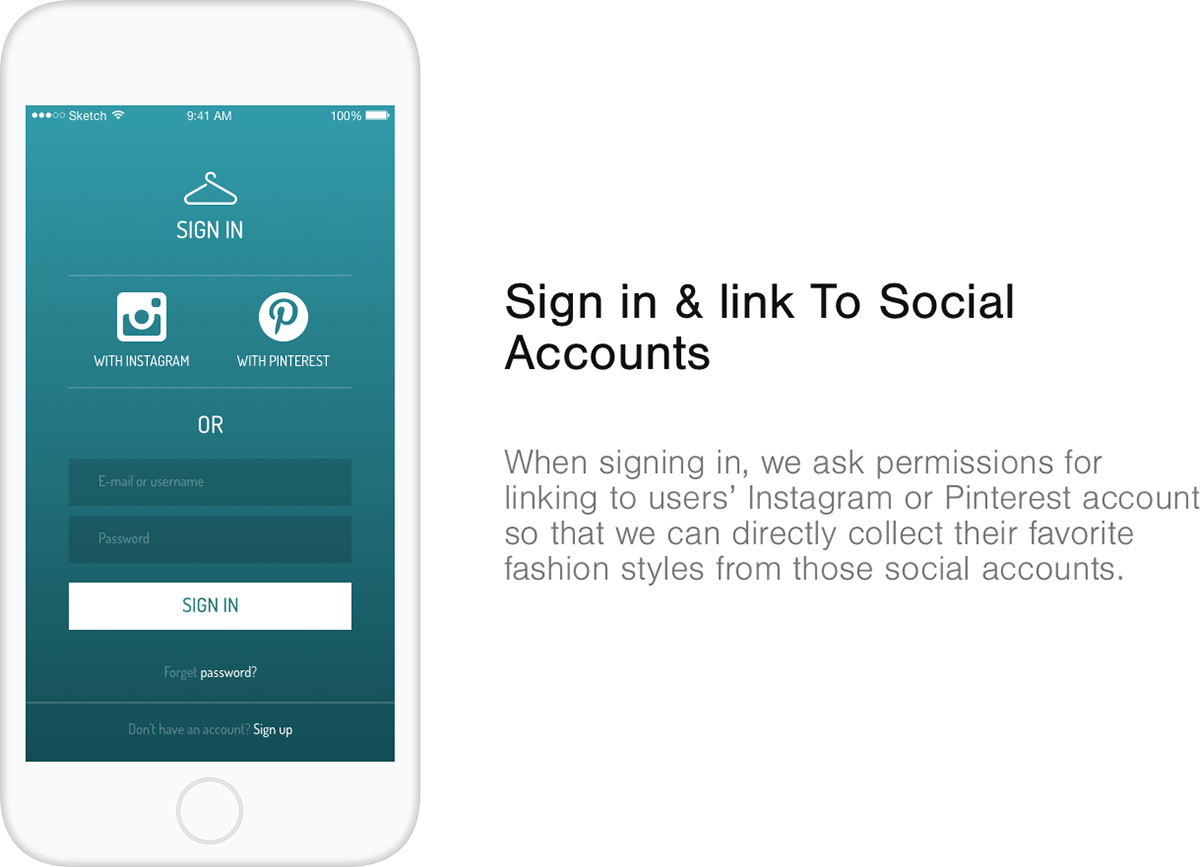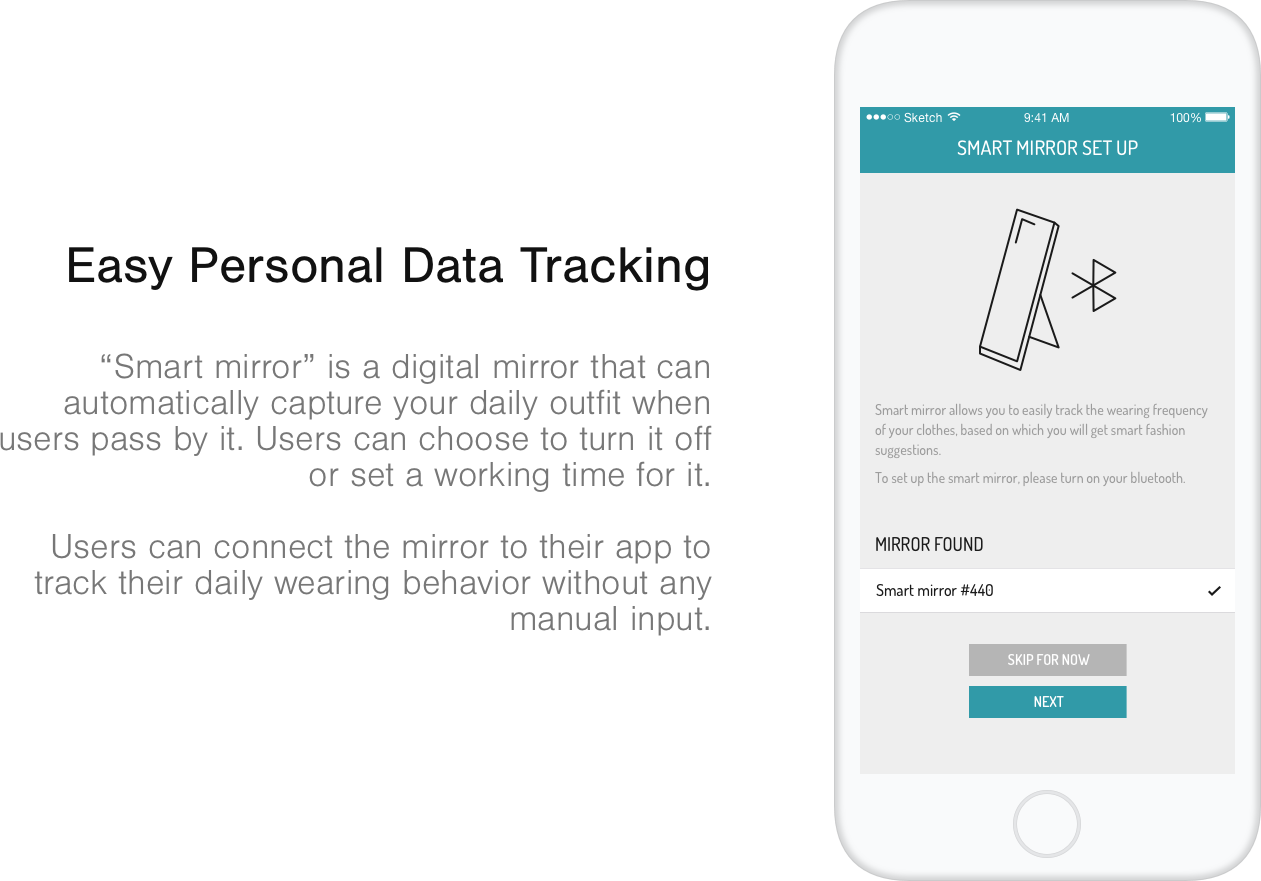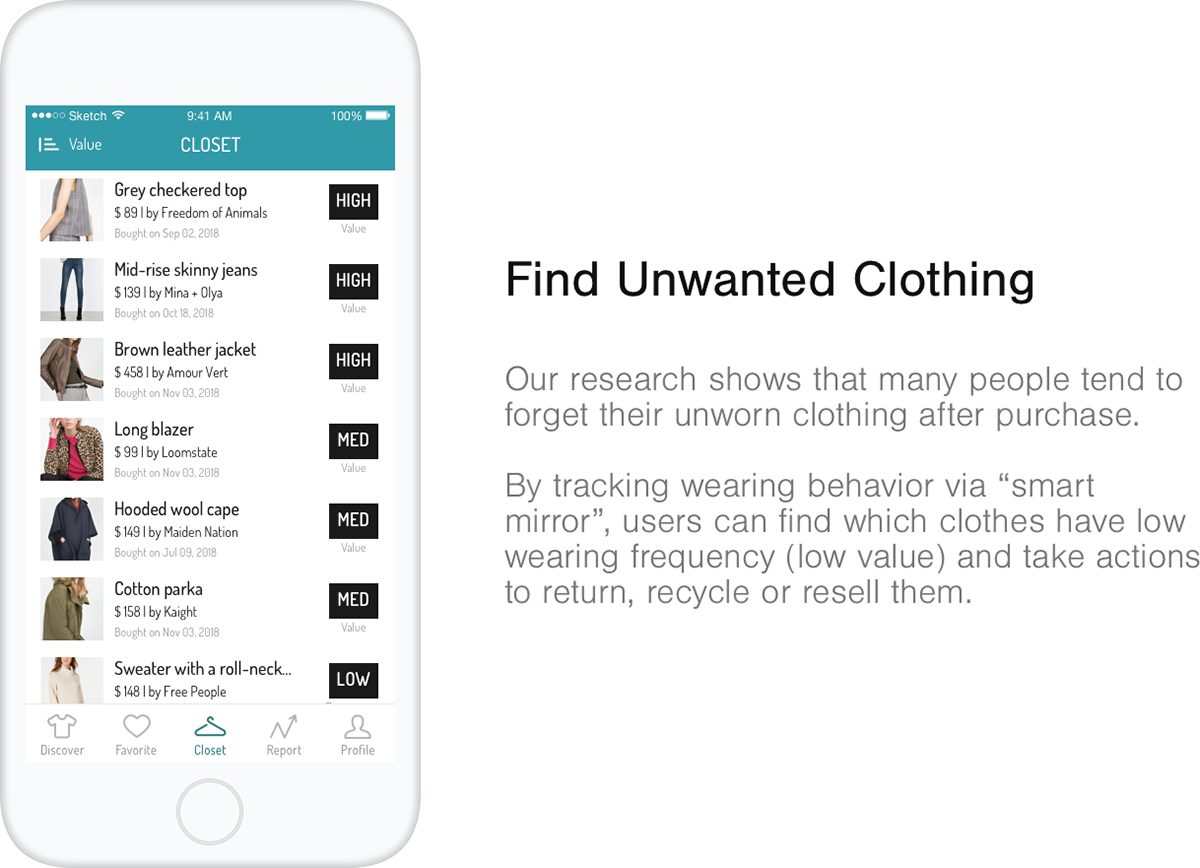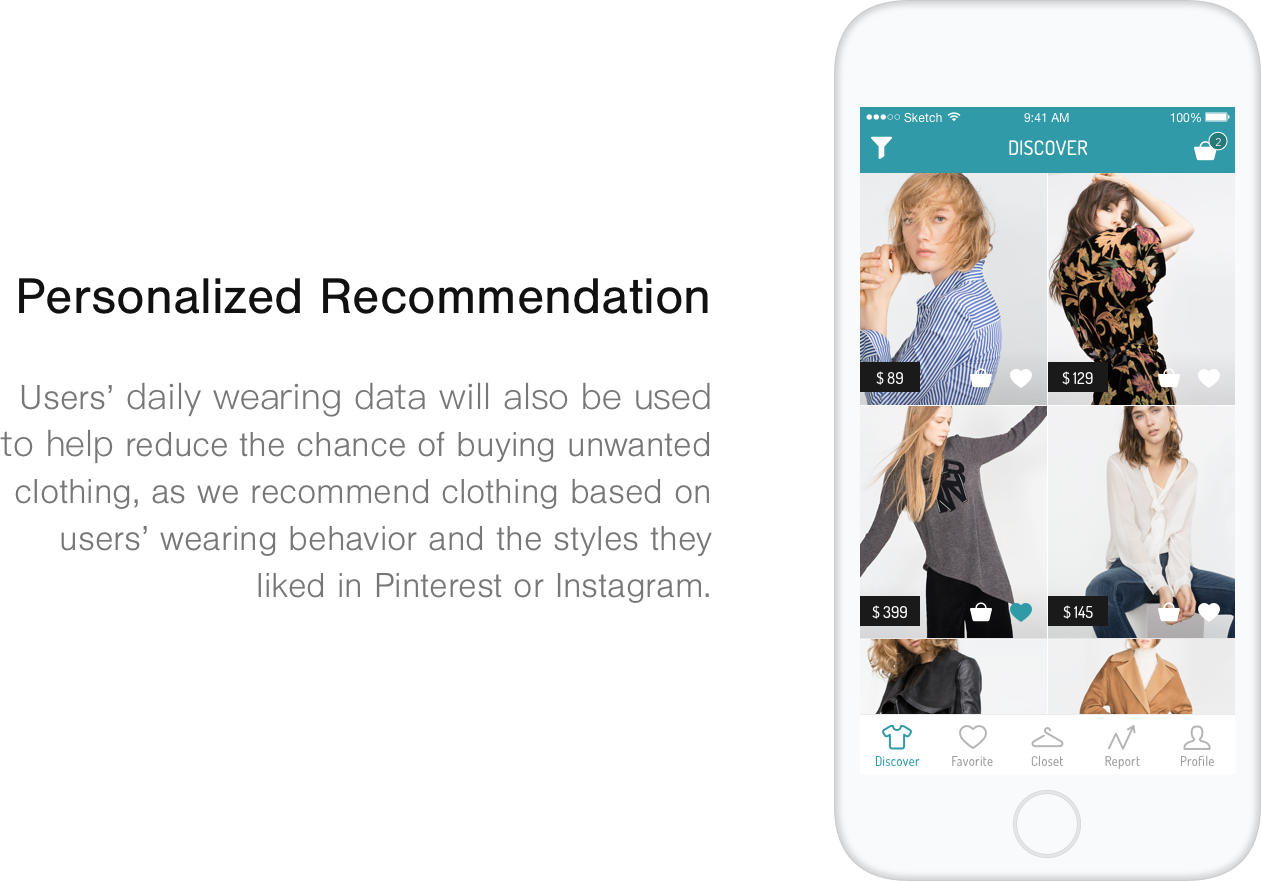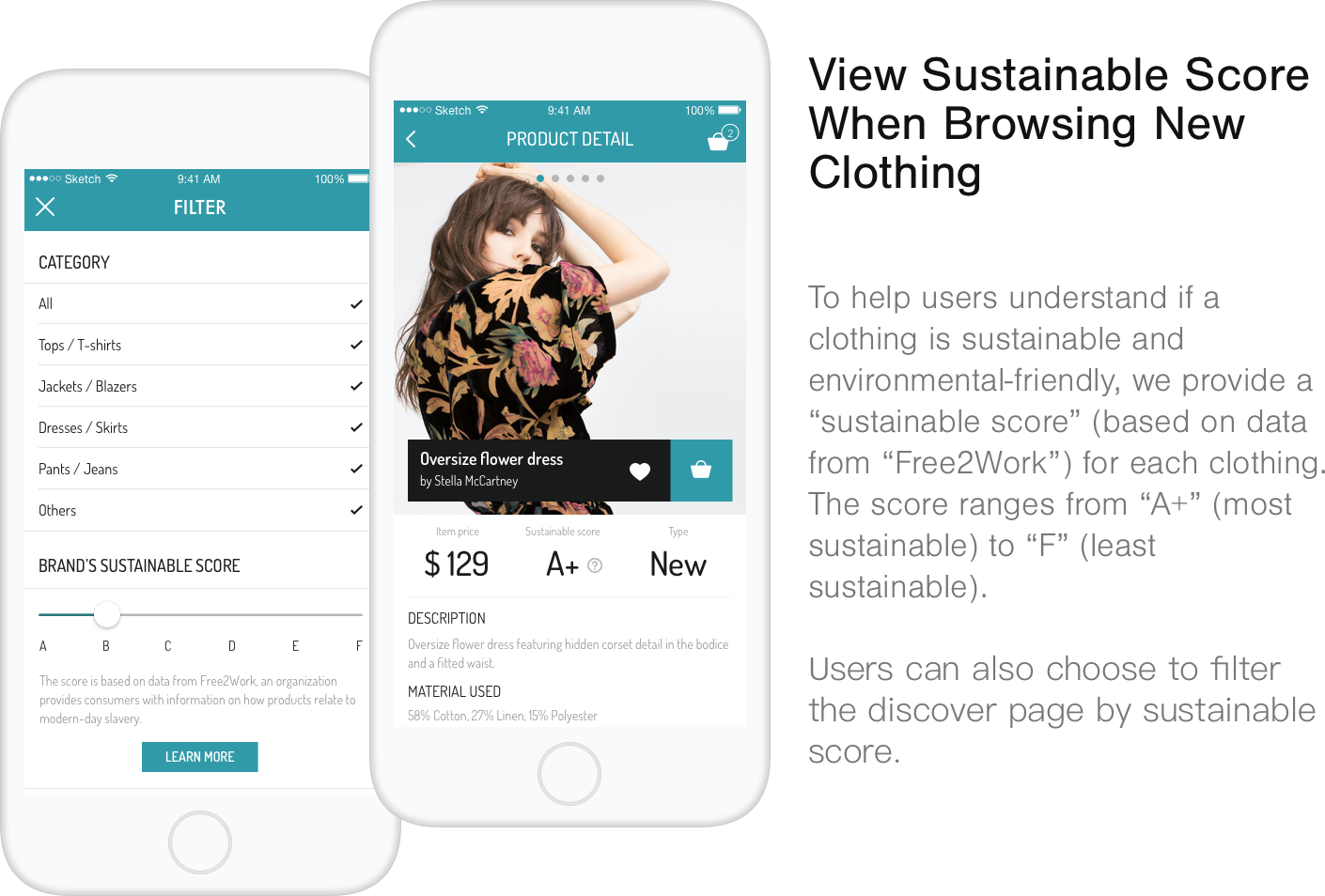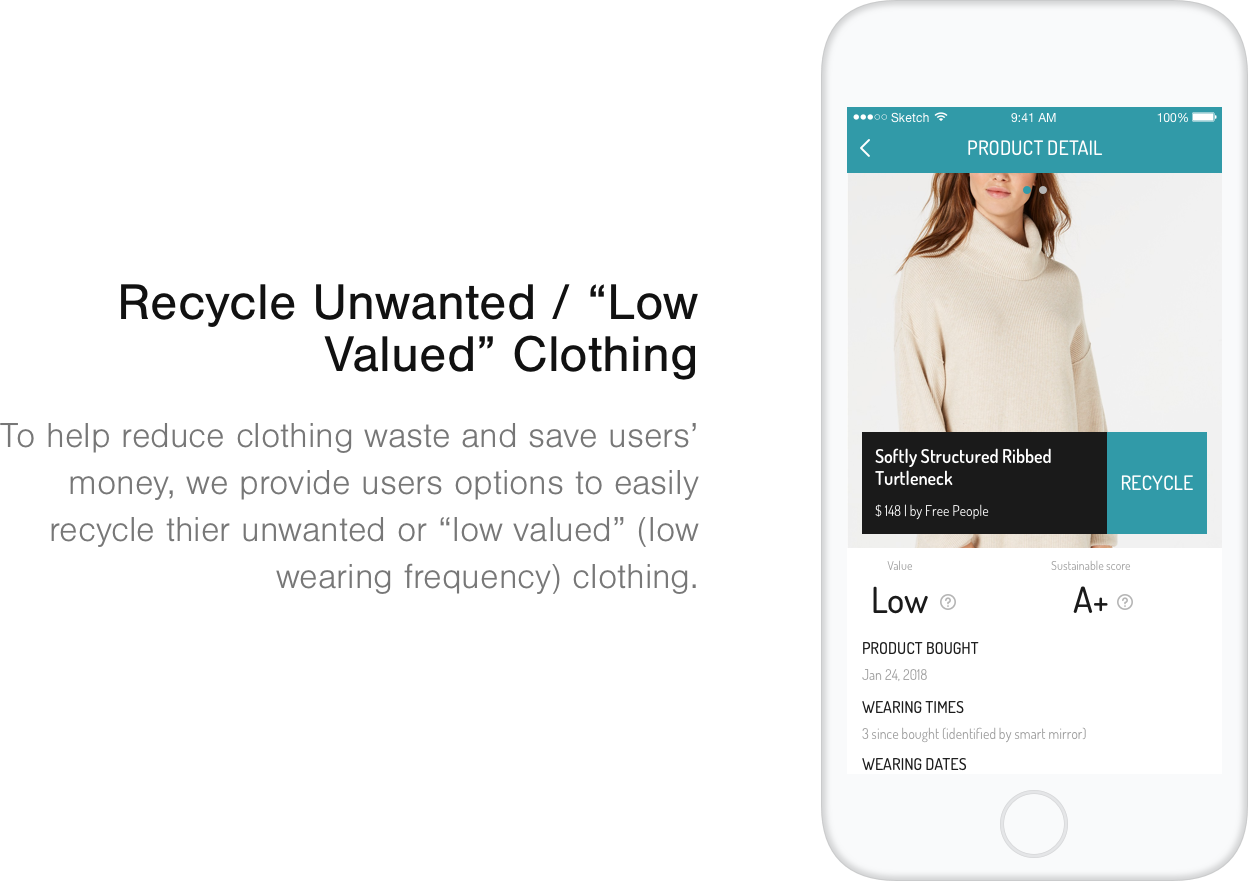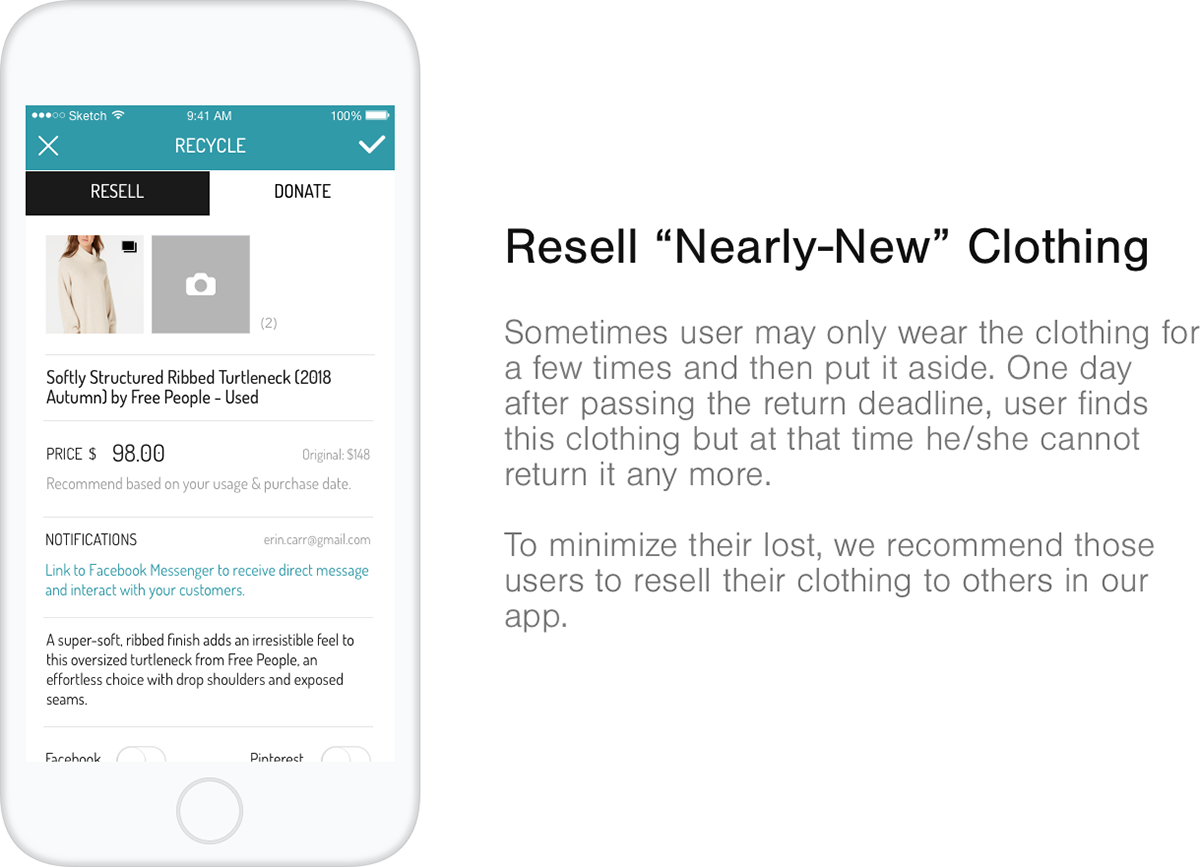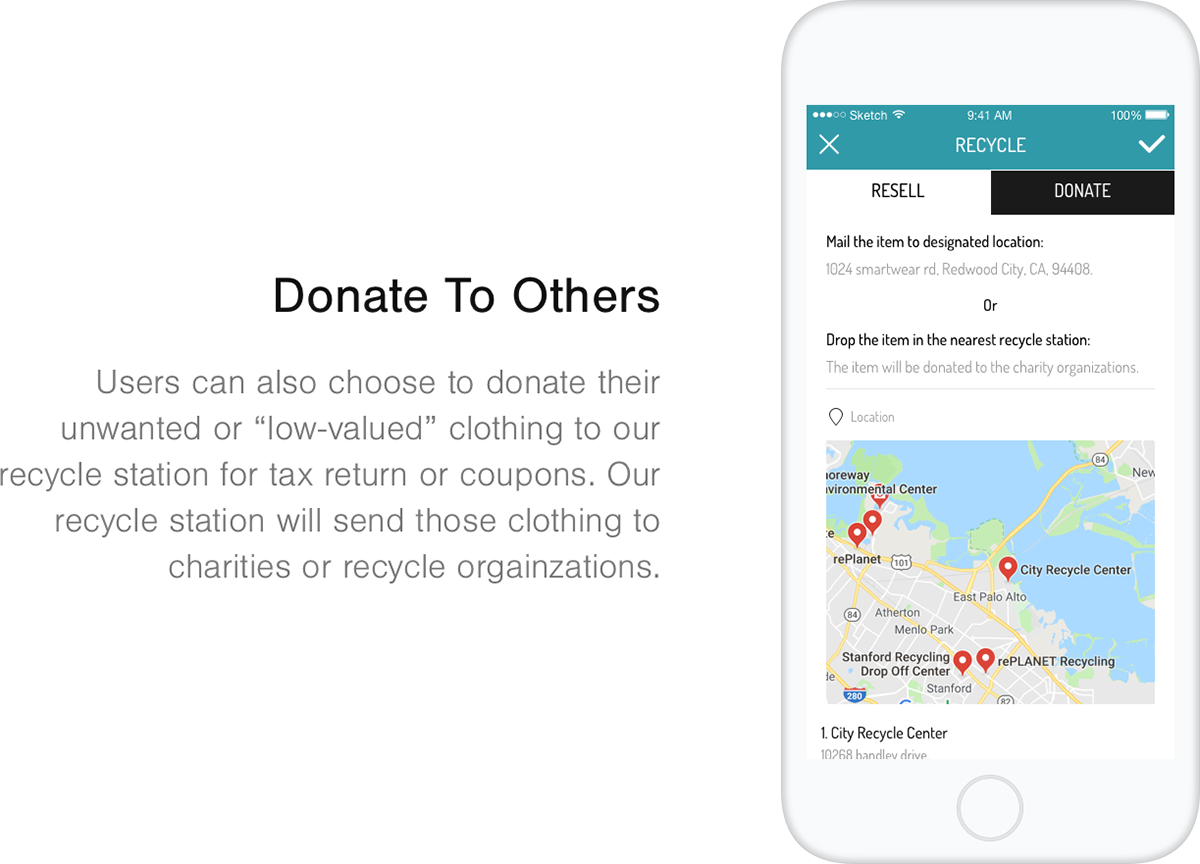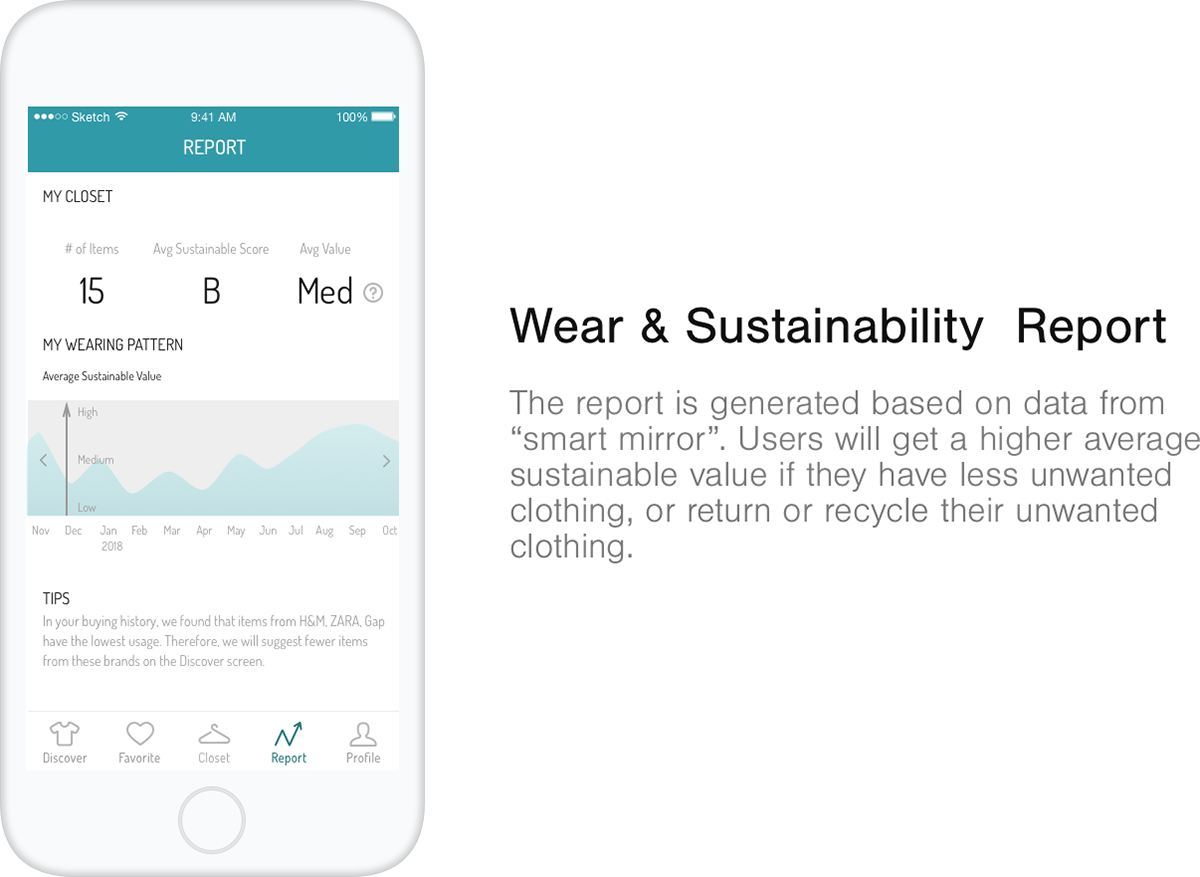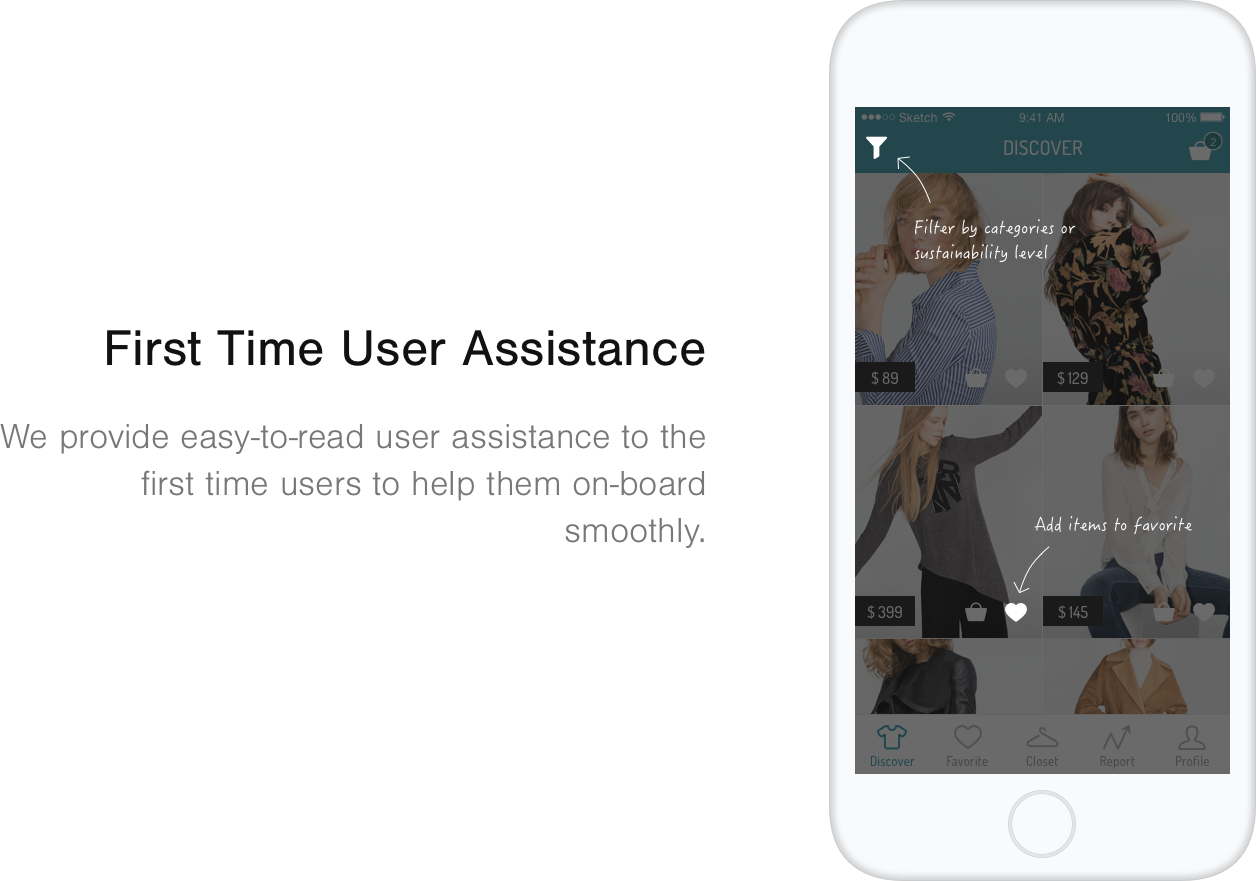 Color
We decided to use green as our primary color, as green is the color for nature and environment. By looking at our app's screen, users may be able to guess that this app is related to environment protection or sustainability.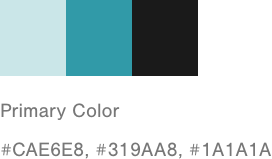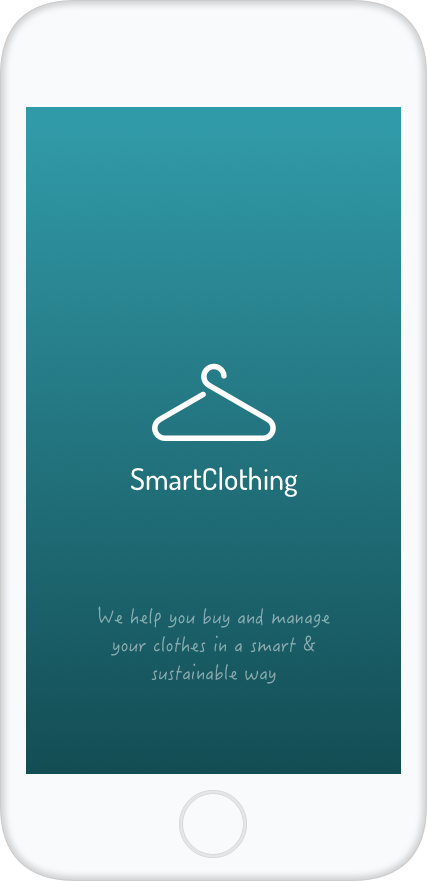 Font
Besides "sustainability", we also want to emphasize the "Fashion" aspect in our app. Therefore, we choose to use "Dosis Sans", which looks stylish and modern, as our primary font.